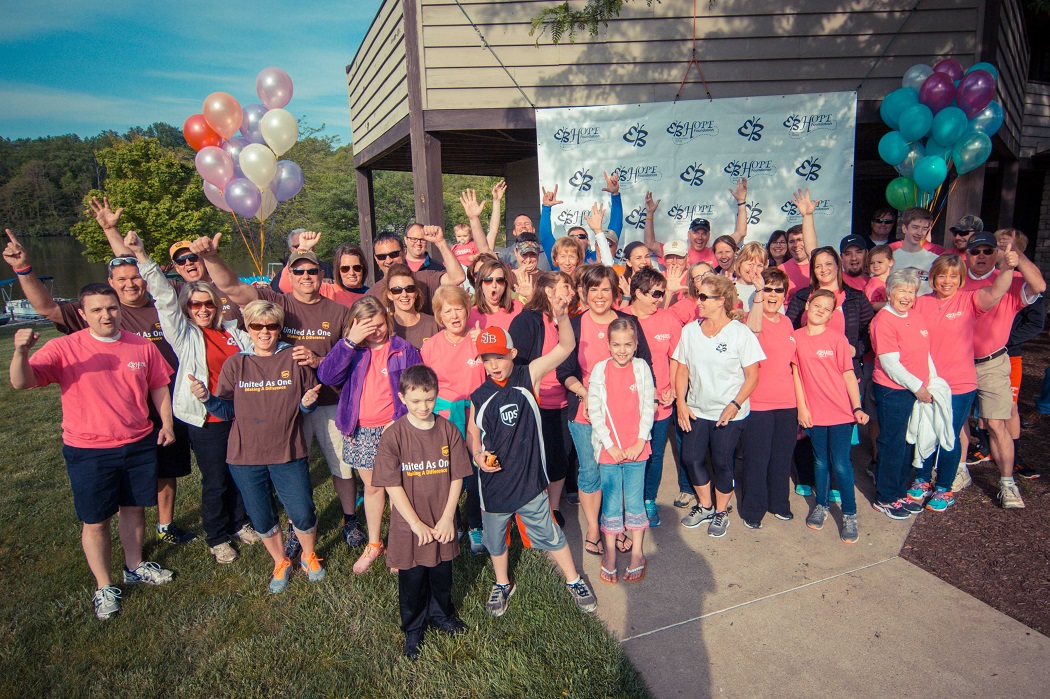 About the EB Hope Foundation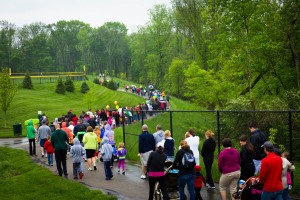 It all started with a walk…In the spring of 2008, family and friends came together for the first annual Walk for EB to support a little boy with EB named Carson. Our goal was simply to spread awareness about this widely unheard of skin disease and possibly raise a few dollars to help with efforts to find a cure. Little did we know that what started as a simple walk would blossom to a non-profit organization committed to providing a path of hope for the EB community.
In the spring of 2015, the EB Hope Foundation was established as a way to further grow efforts to spread EB awareness, support EB organizations and families, and raise more funds for research. The foundation is recognized by the IRS as a 501C3 tax-exempt, charitable organization.
The primary initiative put on by the foundation continues to be the annual Walk for EB, which takes place in early May in Cincinnati.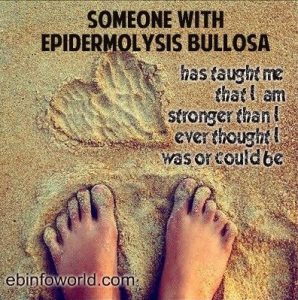 We believe awareness about EB will change lives…awareness extends the path of people who can support efforts to help EB families and fund research needed for a cure. At the same time, awareness can also have a positive impact on the world around us by sharing the powerful stories of those living with EB.

Most of our stories come from our organization's inspiration, Carson, son of David and Kristy Kissell. Despite all that he has to endure, Carson continues to walk his EB journey with great faith, courage, and a joyful spirit. Just as we work to bring hope to those living with EB, we must always remember how much hope and inspiration those living with EB bring us. As a post on the EB Info World stated, "someone with EB has taught me that I am stronger than I ever thought I was or could be."
Raise EB a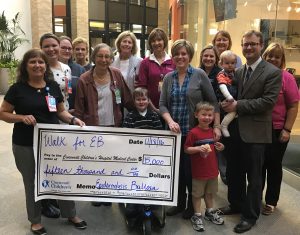 wareness and financial support for research efforts and organizations that support EB patients and their families. Our primary initiative is the annual Walk for EB, which takes place in Cincinnati in early May.
In 2016, the EB Hope Foundation made a total of over $30,000 in contributions to four amazing EB organizations:
These donations were made possibly thanks to the generosity of so many people supporting the 2016 Walk for EB and additional donations received throughout the year. Thank you!!!
1) Attend the Walk for EB!
Rain or shine, all are welcome to be a part of the walk each year. Your presence at this special event each year means so much to the Kissell family and all those working to find a cure for EB.
---
2) Partner with the EB Hope Foundation and help raise funds for the cause.
Invite friends and family to make a donation and/or encourage organizations you are involved with to designate charitable funds to the EB Hope Foundation (example: a local high school rallied the student body to raise funds for the 2011 Walk for EB). If you would like help or have an idea for establishing any type of partnership, send an email to walkforEB@gmail.com.
---
3) Invite a representative from the EB Hope Foundation to be a guest speaker at functions or organizations you are involved with, such as community organizations, churches, schools, etc.
EB is an extremely rare disease and awareness is a key step along the path to finding a cure.
We are always looking for opportunities to educate about EB, and would welcome the opportunity to speak to your group or organization. Some previous speaking engagements have included: corporate meetings, church retreats and events, school PTO meetings, Business Exchange Club meeting, high school alumni event, and a non-profit association meeting.
For more information, or if interested in scheduling a talk, send an e-mail to walkforEB@gmail.com.
---
4) Pray.
The challenges associated with EB are too many to count with constant struggles on a daily basis. Some days, prayer is the only thing to do. We invite you to pray for those who have EB and their families. May they find strength, healing, comfort and peace as they deal with this very difficult and painful disease.
For more information or for questions about becoming involved with the EB Hope Foundation or the Walk for EB, send an e-mail to walkforEB@gmail.com.